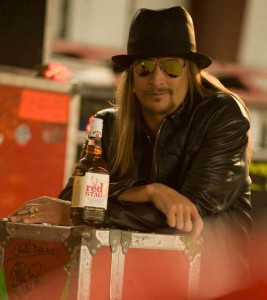 "A Different Breed of Bourbon" is joining forces with a different Breed of Rock Star to Support America's Military.
BourbonBlog.com has just learned from Jim Beam that Red Stag by Jim Beam, the new black cherry-infused bourbon will partner with multi-platinum superstar, Kid Rock, as the headline sponsor of Kid Rock's 2009 Rock N' Rebels Tour. Fifty cents from every ticket sold for Kid Rock's upcoming concert tour will be donated to Operation Homefront, a non-profit organization that provides assistance to America's military veterans returning home to their families.
"I've been drinking Jim Beam and singing about it my whole career, so when they approached us it was a no-brainer," said Kid Rock. "Add the support we'll be giving to Operation Homefront and everybody wins.
Kid Rock will kick off the Red Stag by Jim Beam partnership on June 14, when the Detroit native will serve as Grand Marshal of the NASCAR Sprint Cup Series LifeLock 400 race at Michigan International Speedway. Through their support of Operation Homefront, Red Stag and Kid Rock will help fund moving assistance, emergency aid, computer programs and care packages in local chapters throughout the country.
"Kid Rock's unique style and music set him apart from other artists," said Kelly Doss, senior director of Bourbon and Whiskeys, Beam Global. "He's a longtime Jim Beam fan who puts on an amazing show. And like Jim Beam, he's an avid supporter of the U.S. military."
The Rock n' Rebels Tour is scheduled to kick off June 26 in West Palm Beach, FL. Throughout the summer (and where legal), Red Stag by Jim Beam will be offering legal purchase age consumers in select markets access to download a free, exclusive Kid Rock download, as well as opportunities for VIP passes, access to post-show meet-and-greets, and Red Stag by Jim Beam merchandise.
There will be a "Call of the Wild" Sweepstakes which will grant one winner and three friends an all-access weekend to see Kid Rock perform live in Las Vegas, among other prizes. Check www.TheRedStag.com . and www.jimbeam.com as the sweepstakes runs July 6, 2009 to August 31, 2009. You must be 21 years of age or older and a legal resident of the USA to participate, so please check all the details on Beam's websites.